"Murder at Republic" - Former movie stuntman Buck Ames, now a private detective is called in to investigate a murder at the movie studio. It is 1940 and the studio is making the serial Adventures of Captain Marvel. Can Buck in his red 1937 Cord solve this backlot mystery? Murder at Republic is published by iUniverse and can be ordered from
www.iuniverse.com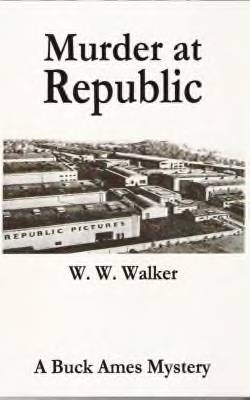 "Murder at Columbia" - In 1943 Buck Ames is hired to watch a young starlet. When she turns up murdered Buck must, despite his limp, do some fancy footwork to solve the murder before he takes the fall for it. Murder at Columbia is published by Publish America. It can be ordered from
www.publishamerica.com
or
www.amazon.com
"Murder at Universal" - In 1944 murder and stolen money draw Buck Ames to the famous movie studio. On the set of the serial Mystery of the Riverboat a man has been found hanging.
Murder at Universal is published by Lulu. It can be ordered from http://www.lulu.com/authorwoodrowwwalker

This title has been revised and a second edition will be available from Amazon
SOON.